15-19 March 2021: OPEN BUILDING NOW! 2 - The Infill Festival. Comfort in Circularity
2021-02-24
THE INFILL FESTIVAL - COMFORT IN CIRCULARITY
With this second edition of Open Building NOW! the focus is on the infill: the building components and installations that make a building inhabitable and useable. According to the principles of Open Building, this infill needs to be flexible, adaptable, demountable and – anticipating future regulations – as circular as possible. The lectures will focus on strategies and scenarios for development and design, putting the (future) resident in the middle of the process. In what way will new technologies (digitization, prefabrication, VR/AI, customized manufacturing) contribute to smoother processes and circular, affordable and comfortable buildings?
WORKSHOP + LECTURES
Because the subject is high on the agenda for all parties involved, a format has been chosen in which the program is partly public (the lectures and case studies) and partly reserved for the participating students. The workshop is primarily aimed at the master students of aE studio. On the basis of their own graduation plan, the students will design a detachable interpretation of a (living and / or work) unit, that will be presented on Friday afternoon, March 19. The designs are presented as digital configurators or as three dimensional (technical) drawings. Some of the proposals will be used in a hackathon next fall.
ONE MILLION HOMES & OPEN BUILDING
The task for policy makers, architects and developers for the coming decades is clear: we must work on circular, flexible and adaptable structures and anchor them well to the urban context and society. Within the research project 1M Homes, TU Delft works with an array of stakeholders from the industry on the development of strategies to address this task. The principles of Open Building are a good strategy in this respect: they promote a separation of support (base building) and installation systems, creating flexibility in layout, use and function.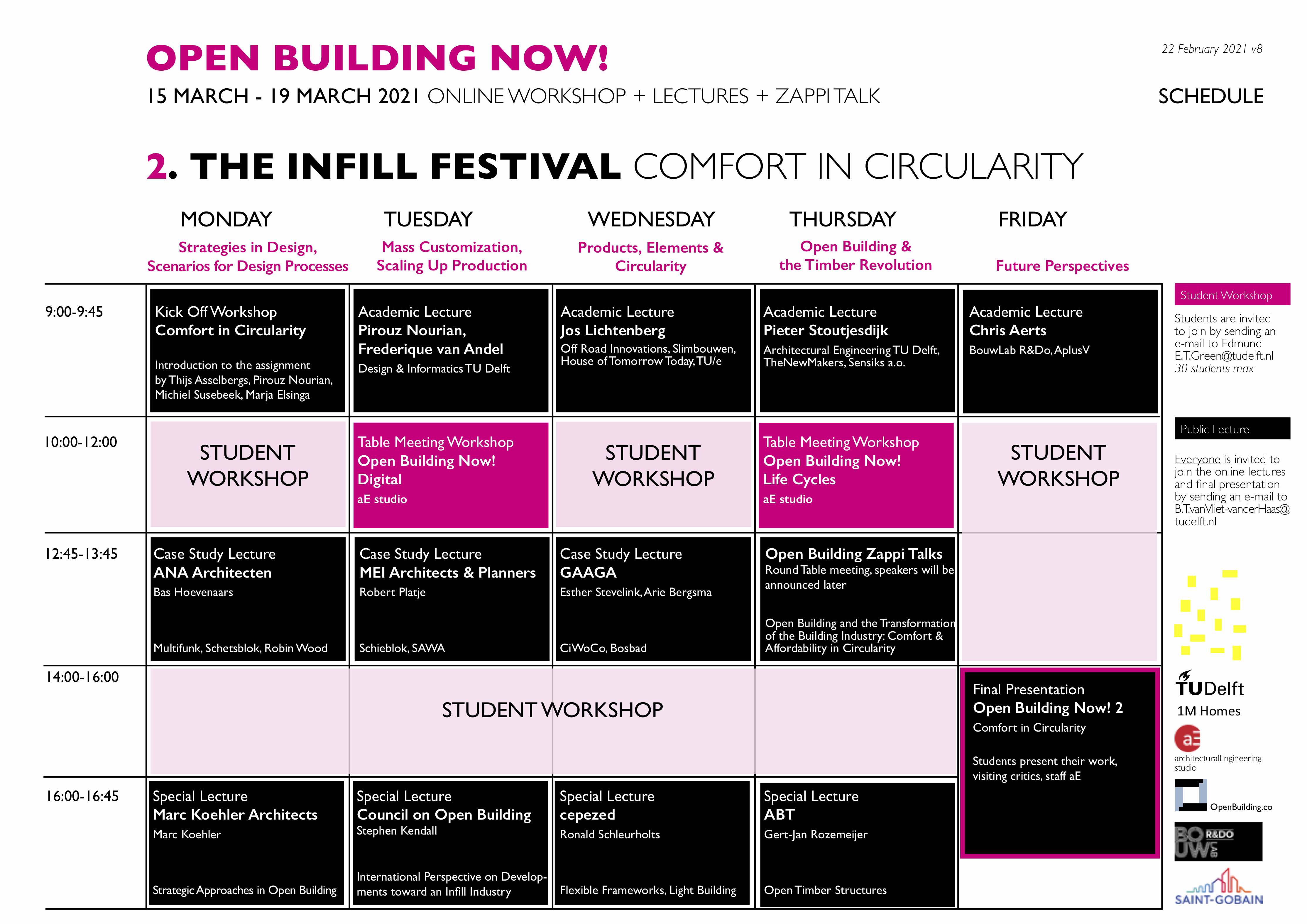 The full schedule is available on openbuilding.co/events
For more information please contact Thijs Asselbergs ([email protected]) or Caroline Kruit (editor OpenBuilding.co), [email protected], +31-(0)6-50287800.
The lectures and Zappi Talk are free to attend (via Zoom): please send an e-mail to Barbara Vliet-Van der Haas [email protected] to receive a link.
Students are invited to apply for the workshop Open Building Now! by sending an email to Edmund Thomas Green ([email protected]).